Welcome to the Penelope Porter web site. Please take a few minutes to review these Terms and Conditions. Penelope Porter reserves the right to update or modify these Terms and Conditions at any time without prior notice. For this reason, we encourage you to review these Terms and Conditions whenever you purchase products from us or use our web site.
1.  Method of payment Visa, Mastercard, Direct Bank Deposit & Cash.
2.  Written confirmation with a 50% deposit is required to secure the order and commence production.
3.  Final payment and payment in full is required prior to collection or delivery.
4.  Quotations are valid for 10 days.
5.  All cancellations shall result in a cancellation fee equal to 50% of the cancelled order.
6.  Goods specifically made to client's specification are not refundable.
7.  Measurements that are provided incorrectly and need adjusting on installation will incur a fee in doing so.
8.  Payment in full is required prior to delivery. We take no responsibly for any delay in delivery beyond our control.
9.  Penelope Porter reserves the right without notice to modify the design and construction of each product within our range.
10.  Dependent on chosen product design and size, some fabrics may need to run vertically, and seams will be noticeable. Where ever possible Penelope Porter will try to avoid this, but this is at the discretion of Penelope Porter.
11.  Penelope Porter  is not responsible for any dyelot variations in fabrics and customers not liking the fabric choice once delivery has occurred.
12.  If there is a delay in fabric from the supplier, Penelope Porter will contact the buyer and advise the new delivery timeframe. At this point, the buyer can reselect the fabric or accept further delay.
13.  Shading can occur with some velvets where areas of the pile appear lighter or darker in shade.  This can easily be mistaken for uneven dyeing or faulty fabric but is in fact an inherent characteristic of the velvet.
14.  Variations will occur in natural products such as timber and leather. No guarantee can be given to exactly replicate the natural features of products displayed in our showroom or online.
15.  A five year structural warranty applies to workmanship only from date of purchase. This excludes damage caused by accident, misuse or neglect and does not extend to leather and fabric or normal wear and tear.
16.  Warranty does not cover fabric or natural variations occurring in wood and leather.
17.  Penelope Porter will not be held responsible for any damage caused by negligence, improper storage or damage by a third party.
18.  Penelope Porter reserves the right at any time after receipt of your order to accept or decline your order for any reason.
19.  All pricing is in Australian dollars and is valid and effective only in Australia.
20.  In the event a product is listed at an incorrect price due to typographical error or error in pricing information received from our suppliers, Penelope Porter shall have the right to refuse or cancel any orders placed for product listed at the incorrect price.
21.  Made to Order items will take about 4-6 weeks to be created, any date quoted for delivery is an estimate only.
22.  Delivery and installation fees will depend on where your order is being delivered and the size of the product. It is the customers responsibility to ensure that the correct delivery address and contact number are provided and to inform Penelope Porter of any difficulties or specific requirements associated with access for delivery.
23.  The freight charge covers a single delivery at ground level during normal weekday delivery hours unless specified otherwise.  We reserve the right to charge additional costs for unusual access not advised.
24.  Penelope Porter and our nominated couriers are not responsible for fixing bedheads to the wall or building bases. It will be an extra fee for installation.
25.  Penelope Porter reserves the right to make changes and corrections in prices, products, and specifications without notice and to change information at any time without prior notice, including after you have submitted your order.
26.  Images and dimensions displayed on this web site should be regarded as illustrative and for informational purpose only. The actual products may vary slightly to the images and dimensions stated.
27.  This Web Site and all Content available on this Web Site are provided on an "as is" basis without warranties. You acknowledge, by your use of this Web Site, that your use of this Web Site is at your sole risk, that you assume full responsibility for all costs associated with all necessary servicing or repairs of any equipment you use in connection with your use of this Web Site, and that Penelope Porter shall not be liable for any damages of any kind related to your use of this Web Site.
28.  Any comments, feedback, notes, messages, ideas, suggestions or other communications sent to our Web Site shall be and remain the exclusive property of Penelope Porter. Your submission of any such Comments shall constitute an assignment Penelope Porter and it's brands of all worldwide rights, titles and interests in all copyrights and other intellectual property rights in the Comments. Penelope Porter will be entitled to use, reproduce, disclose, publish and distribute any material you submit for any purpose whatsoever and without compensating you in any way. For this reason, we ask that you not send us any comments that you do not wish to assign to us, including any confidential information or any original creative materials such as stories, product ideas, computer code or original artwork.
29.  Penelope Porter and the Customer agree that the terms and conditions of sale shall be governed by the laws of the State of New South Wales, Australia.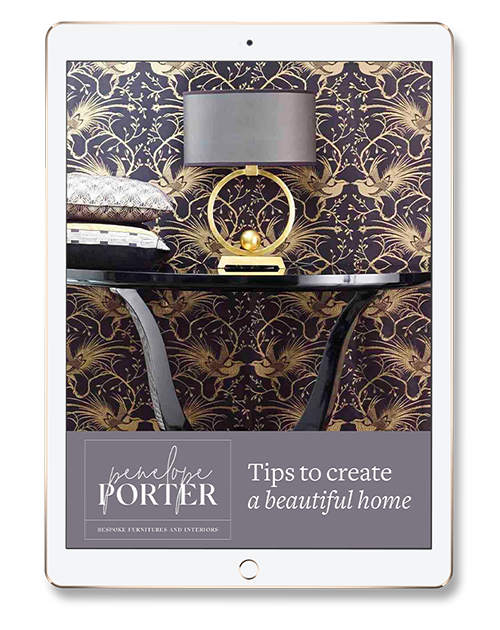 Want our top tips to create a beautiful home?